Camies Kruzen, "Riley"
Bio: In mid-December 2013 we were contacted by an individual who, while looking for OTTBs for a client, had come across a young trainer in Pennsylvania who had many malnourished horses. Four of the horses were off the track thoroughbreds, two who had recently retired from Finger Lakes Race Track – Camies Kruzen, Bedrock Blues, Silver Bag and Silver Velvet.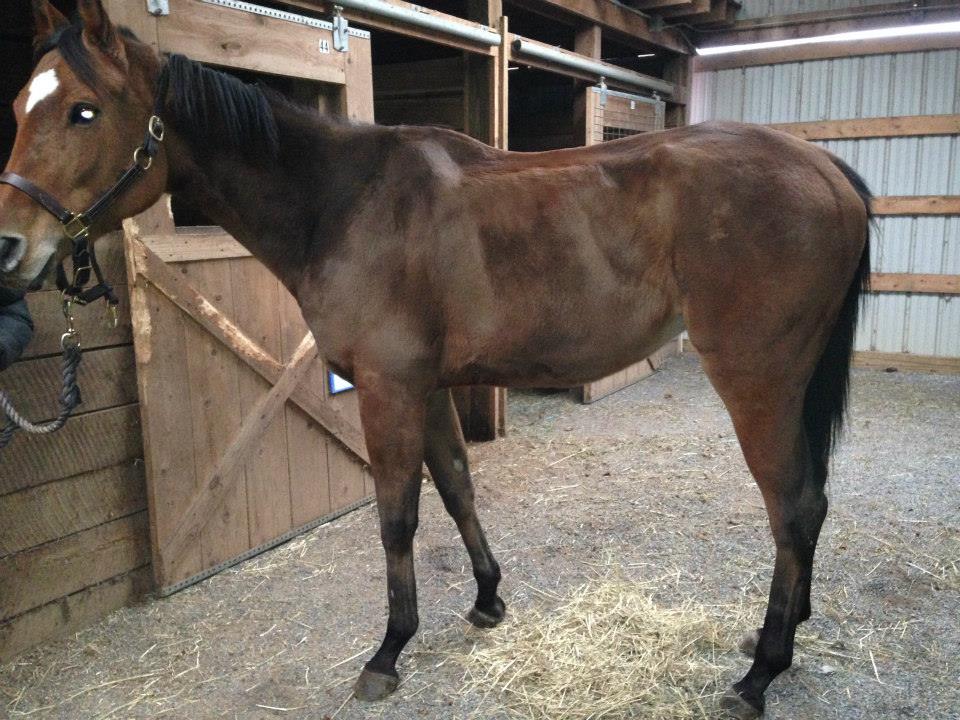 Through quick networking efforts from a group of wonderful individuals, three of the four OTTBs were secured quickly. Thanks to careful negotiations by the original caring individual, Jessica Pierman, the prices were lowered in order to purchase them from the young trainer. Second Chance Thoroughbreds paid $500 (originally $650) for Camies Kruzen, Finger Lakes Finest Thoroughbreds paid $300 for Silver Bags and Jessica's client paid $400 for Silver Velvet (originally $1,500). The three OTTBs were moved to the other side of the barn upon purchase and were started under a careful re-feeding program awaiting transport thanks to Alexandra Hillegass of Winning Touch LLC. She did an amazing job helping these horses and we can't thank her enough!
Through networking efforts that would not have been possible without our friend Colleen Cheechalk, safe transport and the start of rehabilitation was made possible for Camies Kruzen and Silver Bag. A veterinarian came on January 8, 2014 to give health certificates and pull Coggins. The vet assessed both horses and each were given a Body Condition Score of 2 (out of 9) on the Henneke Scale. The vet costs were covered thanks to generous donations by Angie, Susan, Shelby, Barb, Cristy, Trisha, Carol, Karin, Jeanne, and an anonymous donor. We are also grateful to Saving Baby Equine Charity and Jo Anne Normile for a $150 grant towards the immediate costs of Camies Kruzen.
A farrier was also out to see the horses on January 7, 2014, at which time all four of Camies' racing plates were finally removed.
Silver Velvet was the first to move to her new home in New Jersey on January 9, 2014 where she will be carefully rehabbed before beginning a new career. Photos and videos already show a healthier horse enjoying good turnout and proper nutrition!
Silver Bag is being fully rehabbed by Angel Acres Horse Haven Rescue.
Camies Kruzen made his way to our facility on January 11, 2014. He was met with a
warm, dry stall with good hay and fresh water. He is a good eater and has made many friends in the barn. After a few months of gaining weight, Camie was introduced to light work in an effort to build muscle. By June, he was being ridden regularly and enjoyed having a job. Camie was adopted into his forever home on July 10, 2014 and renamed Riley by his adoptive mom.

Camie is a New York bred who started racing as a three year old. He raced 19 times and earned $22,843 with 3 firsts, 2 seconds and 2 thirds. He retired from Finger Lakes Race Track in late November 2013.
Bedrock Blues was secured by Finger Lakes Finest Thoroughbreds on January 16, 2014 and is being rehabilitated.
Tracks Attended: Finger Lakes and Saratoga.
Links: Pedigree, Racing Stats, FLF Ad, Bloodline Brag
Quick Facts:
Show Name: TBD
DOB/Age: 05/11/2009, 5 years old.
Height: 16.1 hands
Color: Bay
Discipline: Trail/Hunter Paces