We are a 2023 Thoroughbred Charities of America grantee!
As a partner in The Right Horse Initiative, we're proud to support a national movement reframing the conversation about equine adoption. The Right Horse Initiative, a program of the ASPCA, is a collective of industry professionals and equine welfare advocates working together to improve the lives of horses in transition through a dialogue of kindness and respect. Second Chance Thoroughbreds is working with The Right Horse Initiative to promote the bond between horses and humans. We are good people for good horses, and everyone who loves horses has ownership in this movement. Upcoming Event: October 22nd Open House Celebrating our 10th Anniversary.
To learn more about The Right Horse Initiative, visit: http://www.therighthorse.org and to browse or share adoptable horses visit: www.myrighthorse.org
See our adoptable horses at: https://www.myrighthorse.org/organizations/second-chance-thoroughbreds-spencer-ny
Congratulations to Nucks and Meg, and World of Honor and Ashley for their performances at the Megamakeover. Meg and Nucks were 2nd in Freestyle and 3rd in barrels. Ashley and World of Honor were 4th in barrels. Both horses earned the TCA award for top adopted horse!
Nucks at Retired Racehorse Project MegaMakeover
ABOUT US:
Second Chance Thoroughbreds, Inc. is a registered 501(c)(3) nonprofit charitable organization dedicated to retraining and re-homing retired thoroughbred racehorses. We are an all-volunteer organization located in scenic Spencer, New York whose thoroughbreds come both straight off the track and through local at-risk sales ads. Once at our facility, our horses are assessed and given downtime before starting a suitable retraining program to prepare them for a new career. Our training philosophy is horse-centered; helping the horses learn a discipline they are willing and able to excel at based on both physical and mental strengths and abilities. Our thoroughbreds start their training by learning to be more balanced at the walk, trot and canter as well as learning to have smoother transitions between gaits. Some of our thoroughbreds are introduced to poles and cross rails, eventually graduating to jumping small courses and competing at local shows. Some of our horses become more confident on the flat and with dressage work and others learn the ins and outs of trail riding. Our horses have gone on to excel in many disciplines including hunters, jumpers, eventing, dressage, barrel racing, pleasure, trail and as companion animals. All of our thoroughbreds are adopted under a no racing/no auction/no breeding contract with right of first refusal and are in our care for a minimum of 30 days prior to being eligible for adoption. Our horses are kept up-to-date on shots, worming, hoof care, dentistry and are healthy prior to leaving our facility. We also maintain an active social media presence and regularly network thoroughbreds needing homes in our area.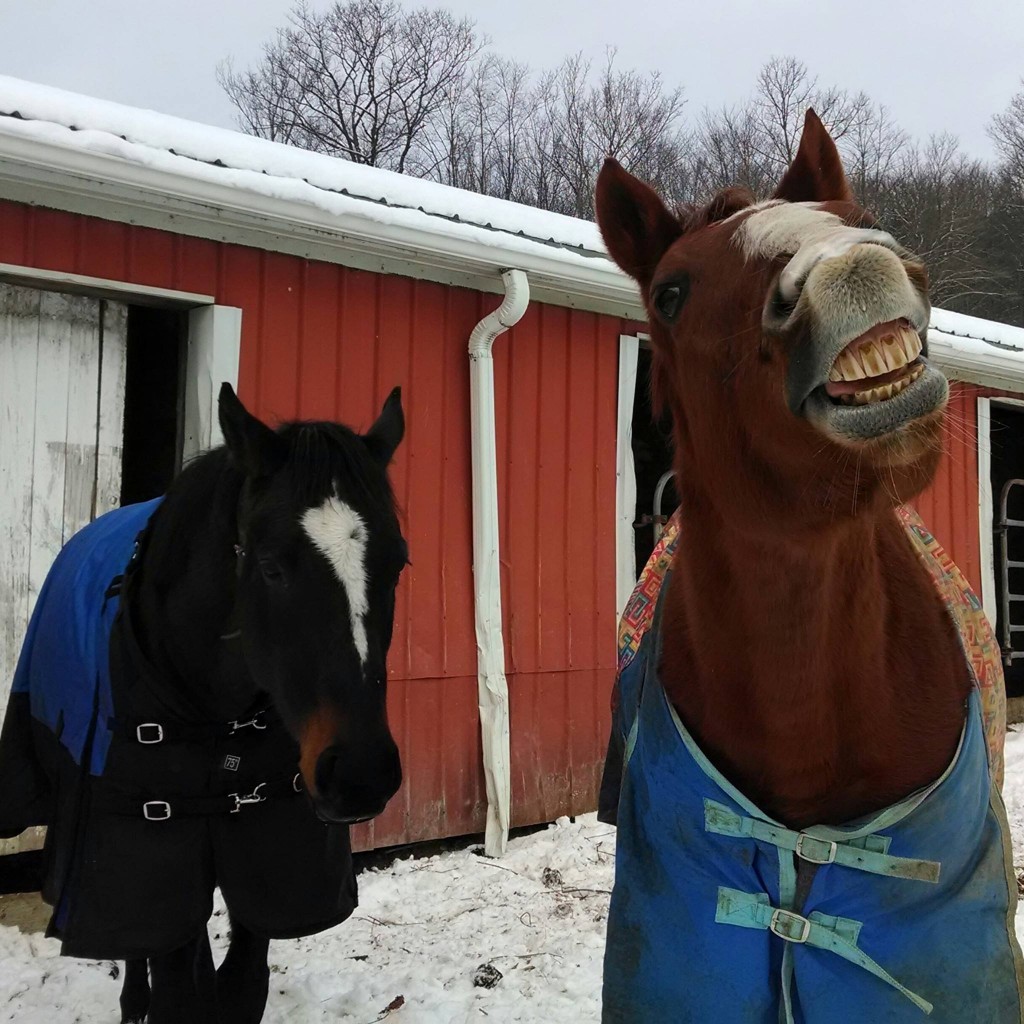 The Social Club Initiative Gelding Program was designed to help combat over-breeding and backyard breeding in our area and is named after Social Club, the first colt gelded at our facility. Since 2012, we have helped geld 29 colts and stallions and have hosted three successful gelding clinics. In 2022, we have helped two cryptorchids become geldings, paying $1500 to the vet. Limited funding available for neighbors in need for either castrations, humane euthanasia, or hay bank.
If you have any questions or would like to learn more about thoroughbred retirement, aftercare, retraining or would like to volunteer, please contact us!